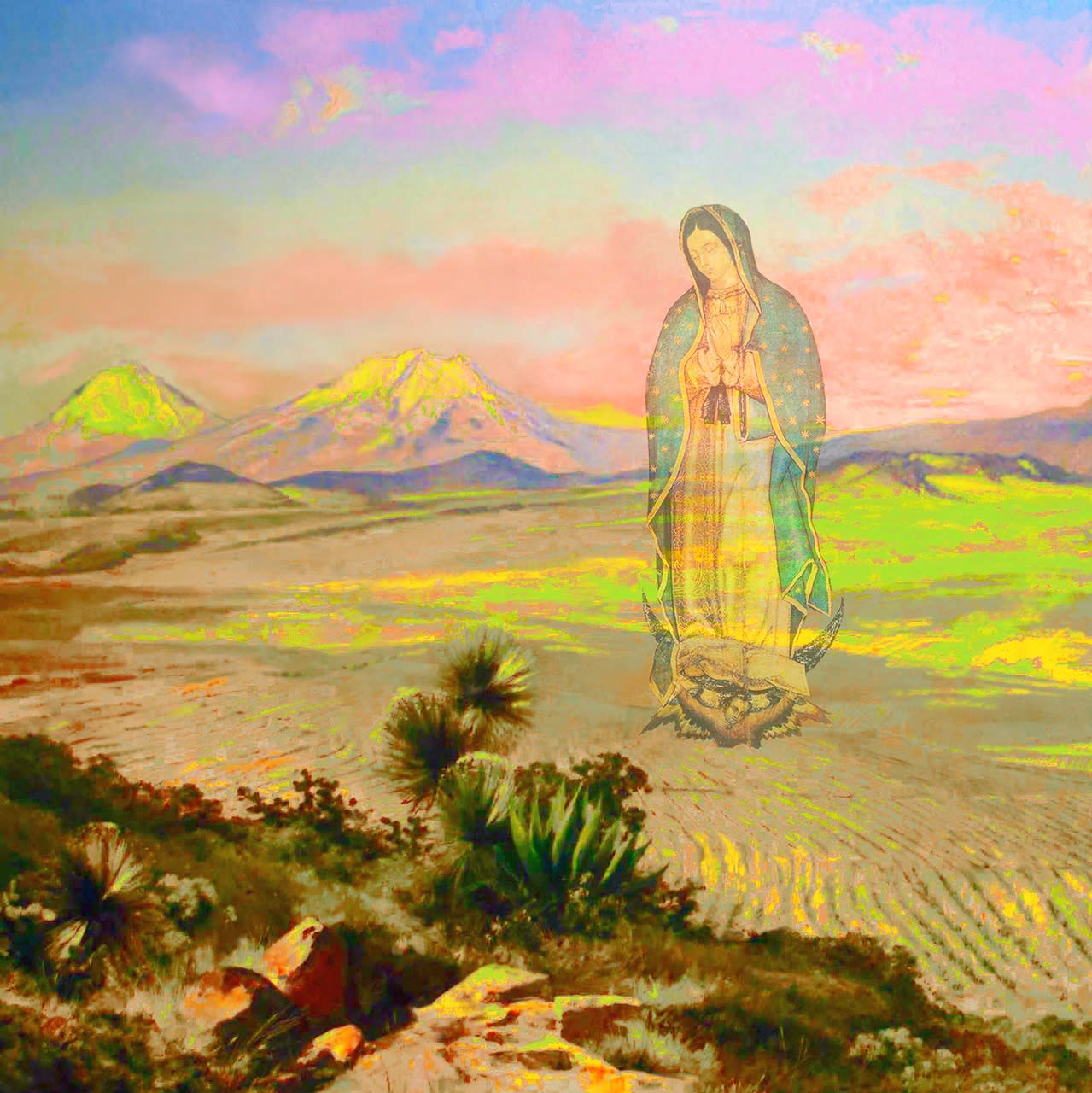 rarible.com/
24/7
https://bit.ly/NFTGuadalupana
THE GUADALUPANA OF THE VALLEY OF MEXICO –paraphrase to 'La hacienda de Chimalpa' by José María Velasco–
Art Konnection and Carlos Rodal, are pleased to invite you to participate in the presentation of the new commemorative work with a limited edition of 12 pieces of NFTs, articulated in GIF format, 12 pieces in Hahnemühle cutton paper and three pieces on canvas of "La Guadalupana del Valle de México", on the occasion of the anniversary of its appearance on the 12th of the 12th month in 1521, celebrating one more year of this event on Sunday 12/12/2021.
REVIEW ON THE AUTHOR'S GUADALUPANAS
In the gallery of The Mexican Cultural Institute of New York, in the heart of Manhattan, with the collaboration of Ramis Barquet Gallery New York, sponsored by RR Donnelley Financial & Press, Sherman & Sterling Law Firm and Carlos Rodal Studio New York, the author held a large and medium- pictorial format, plus installation exhibition with the theme of the Virgin of Guadalupe, with the title: New Apparitions, on December 10, 1997. The sample included more than 40 original pieces, a published catalog with written appreciation from the poet Jorge Esquinca. This exhibition had good critics and press reviews in the Big Apple and Mexico. The exhibition was a success, all works were acquired by various collectors and institutions.
Some of these works have been requested and loaned to participate in multiple exhibitions in the last twenty-two years.
On the occasion of the next anniversary of the Virgin of Guadalupe, with a date that occurs every 100 years, 12/12/21, the author wanted to return to this motif with joy, appreciation and devotion to the Guadalupana -icon of faith and identity in the American Continent–, with the edition of 12 works that commemorate the date in a new way, incorporating the recent techniques of Digital Media, now entering the second decade of the s. XXI and appending them to the recent technological appearance of the -NFTs –'A Non-Fungible Token ', a unique and non-interchangeable unit of data stored on a digital ledger (blockchain)-.
The works made by digital means are inserted in an NFT –to be displayed on any type of device– which due to their characteristics has an international property certificate established through a chain of blocks: a shared digital ledger that provides a reliable means to record and transact using a linked data stream.
12 works in NFT animated in GIF
Title: Guadalupana del Valle de México México –paraphrase to the 'Hacienda de Chimalpa' by José María Velasco–
12 pieces in two formats
Title: Guadalupana del Valle de México México –paraphrase to the 'Hacienda de Chimalpa' by José María Velasco–
Size: 55 x 52 cm and 110 x 104 cm
Technique: Digital media on Hahnemühle cutton paper
Three works with different analogical pictorial treatments
Author: Carlos Rodal
Title: Guadalupana del Valle de México –paraphrase to the 'Hacienda de Chimalpa' by José María Velasco–
Technique: Digital media and mixed on canvas
Size: ______ 110 x 104 cm